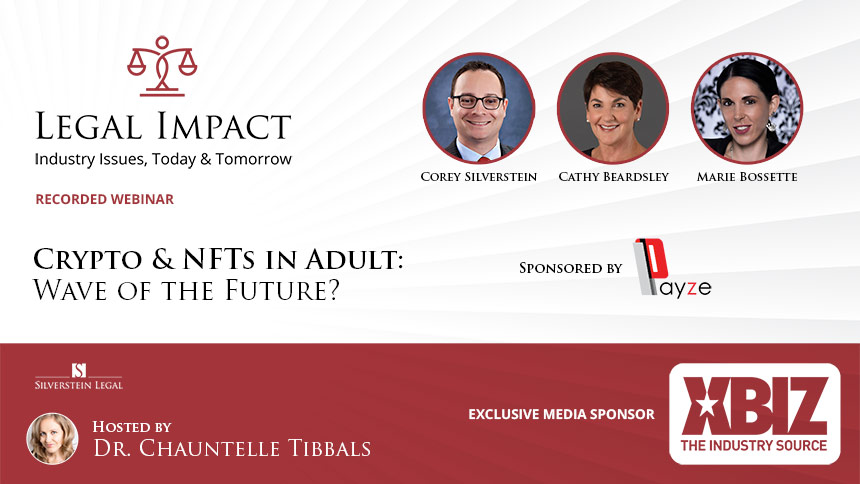 If you missed Silverstein Legal's pro/con discussion about the current state of crypto & NFTs in the adult space, you can catch up now!
Cyberspace (September 12, 2022) – Adult industry attorney Corey D. Silverstein, the driving force behind MyAdultAttorney.com and Adult.Law, recently held the third event in Silverstein Legal's Legal Impact series.
"Crypto & NFTs in Adult: Wave of the Future?" was live-streamed on August 4, 2022. In addition to Silverstein, the event featured special guests Marie Bossette (Owner, Marie Bossette Entertainment LLC) and Cathy Beardsley (President and CEO, SegPay), was sponsored by Payze, and was hosted by sociologist Dr. Chauntelle Tibbals.
The event recording is now available on XBIZ.tv and Adult.law.
"I was thrilled with the attendance and participation that we had at this seminar. Nothing is more motivating than a live, engaged audience!" Silverstein enthused.
"That said," he continued, "we operate in a worldwide digital world, and I want to make sure that those who couldn't attend live now have the opportunity to watch the seminar on their own schedule."
"Stay tuned because announcements regarding our legal episode are coming soon," Silverstein added.
Cryptocurrencies and NFTs have exploded in the adult entertainment industry – however, has their acceptance and growth in the space stalled? During "Crypto & NFTs in Adult: Wave of the Future?," a group of industry thought-leaders and experts had a serious discussion about consumer sentiment, content creators' perspectives, legalities, regulation, and conventional processing, as well pro and con positions impacting the space.
Legal Impact live webinar events are hosted by sociologist Dr. Chauntelle Tibbals and are produced in conjunction with exclusive media sponsor XBIZ. All live events are free to attend for all members of the adult entertainment community and will be posted subsequently on MyAdultAttorney.com, Adult.Law, and XBIZ.tv.
Corey D. Silverstein is the managing and founder member of Silverstein Legal. His practice focuses on representing all areas of the adult industry. Silverstein is also the founder of subscription service Adult.Law. Those interested in subscribing to Adult.Law's services can learn more about subscription tiers here.
Join Silverstein on Twitter at @myadultattorney and on Instagram at @coreydsilverstein.
About Silverstein Legal
Founded in 2006 by adult entertainment lawyer Corey D. Silverstein, Silverstein Legal is a boutique law firm that caters to the needs of anyone working in the adult entertainment industry. Silverstein Legal's clients include hosting companies, affiliate programs, content producers, processors, designers, developers, and website operators.
About Adult.Law
Adult.Law is a subscription legal service founded by attorney Corey D. Silverstein. Launched in 2020, Adult.Law aims to make legal counsel accessible to as many members of the adult entertainment community as possible. Adult.Law subscribers receive 24/7 access to legal resources specific to the adult industry and individualized 1-on-1 legal consulting from one of the most experienced legal teams in the space.