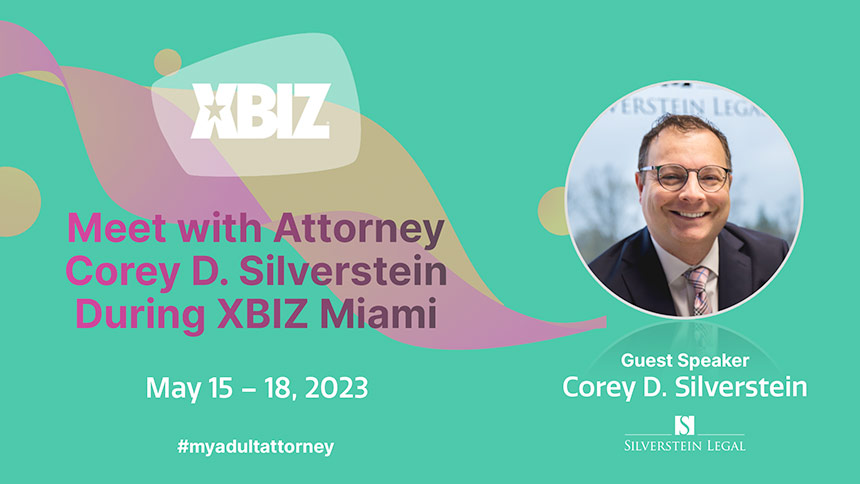 Learn from Silverstein during three seminar events at XBIZ Miami 2023!
Cyberspace (May 11, 2023) – Corey D. Silverstein, the driving force behind MyAdultAttorney.com and Adult.Law, will be attending XBIZ Miami next week. Attendees can schedule an on-site appointment with Silverstein during the show, as well as attend any and all of his three speaking events.
Silverstein's central speaking engagement at XBIZ Miami is also a Silverstein Legal "Legal Impact" event. This special presentation is titled "Content Collaborations: How to Do it Right." Starting at 11 am ET on Wednesday May 17th, Silverstein will appear alongside superstar performer Mary Moody and attorney Lawrence Walters.
In this new age of performer self-made content, performer collaborations and the sharing of content is rampant. This special workshop will help attendees understand the pros and cons of content collaborations. What does every performer need to know and have to do to conduct content collaborations the right way – practically, legally, and for the long haul?
This event will be moderated by the Free Speech Coalition's (FSC) Executive Director Alison Boden.
Details about Silverstein's additional two speaking events are below:
Talent and the Law: Legal Issues for Content Creators at 3 pm ET on Tuesday May 16th 
Legal Update 2023 at noon ET on Wednesday May 17th
Silverstein will also be available for meetings and consultations throughout the duration of the show. Prospective clients, existing clients, and/or anyone just wanting to say hello are encouraged to schedule a meeting in advance of the show by emailing Corey.
"XBIZ Miami's diverse audience of attendees creates the perfect atmosphere for adult entertainment education and I am excited at the opportunity to be taking part in these seminars," Silverstein said. "I'm especially eager to be working with so many gifted co-presenters to provide an exceptional experience for all of the show's attendees."
XBIZ Miami is happening from May 15 – 18, 2023 at the Sagamore Hotel in South Beach. Show information can be found at xbizmiami.com.
Corey D. Silverstein is the managing and founder member of Silverstein Legal and the founder of subscription service Adult.Law. His practice focuses on representing all areas of the adult industry. He can easily be reached through his contact page. Performers and content creators interested in accessing Adult.Law's resources can learn more about subscription tiers at adult.law/subscriptions.
Join Silverstein on Twitter at @myadultattorney and on Instagram at @coreydsilverstein.
About Silverstein Legal
Founded in 2006 by adult entertainment lawyer Corey D. Silverstein, Silverstein Legal is a boutique law firm that caters to the needs of anyone working in the adult entertainment industry. Silverstein Legal's clients include hosting companies, affiliate programs, content producers, processors, designers, developers, and website operators.
About Adult.Law
Adult.Law is a subscription legal service founded by attorney Corey D. Silverstein. Launched in 2020, Adult.Law aims to make legal counsel accessible to as many members of the adult entertainment community as possible. Adult.Law subscribers receive 24/7 access to legal resources specific to the adult industry and individualized 1-on-1 legal consulting from one of the most experienced legal teams in the space.