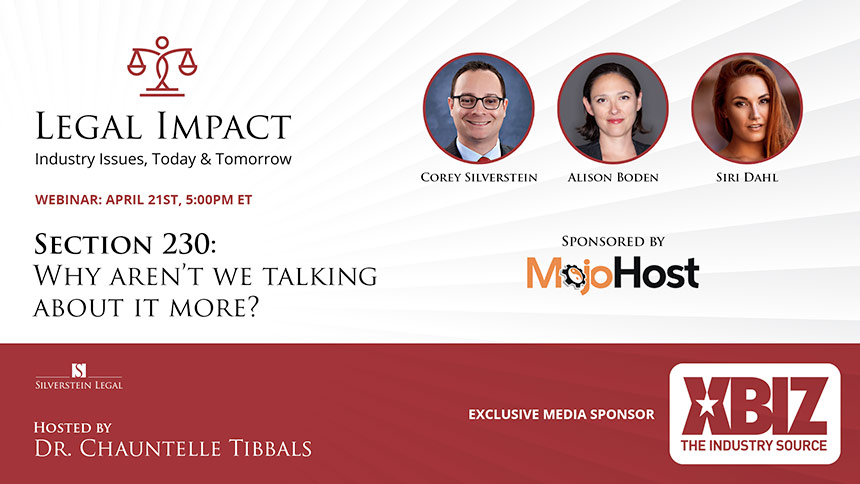 Join attorney Corey D. Silverstein and esteemed guests for a live, not-to-be-missed discussion of Section 230.
Cyberspace (April 18, 2022) – Join adult industry attorney Corey D. Silverstein, the driving force behind MyAdultAttorney.com and Adult.Law, and esteemed guests for the live webinar event, "Section 230: Why aren't we talking about it more?"
The live event will take place on April 21 at 5 pm ET via Zoom. It will feature special guests Alison Boden (FSC) and Siri Dahl and is sponsored by MojoHost.
"Section 230 of the Communications Decency Act is arguably the foundational law that led to the growth of the internet as we know it today. In fact, without Section 230, I do not believe that many of the online platforms in existence today would have been possible," Silverstein explained.
Over the last few years, Section 230 has been attacked by politicians and lawmakers who have been dissatisfied with the level of legal protection granted to computer services providers, and – according to Silverstein – nothing can be more demonstrative of these attacks than FOSTA/SESTA becoming law. Anti-Section 230 rulings from the judiciary have been coming out of multiple jurisdictions, and current proposed legislation known as the EARN IT Act threatens to gut Section 230 as we know it.
"Adult businesses and performers are already suffering from all of the anti-Section 230 changes that have occurred," Silverstein said. "With more changes potentially on the way via the EARN IT Act, there is no more important conversation that should be taking place."
Register for "Section 230: Why aren't we talking about it more?" via EventBrite.
"Section 230: Why aren't we talking about it more?" marks the first installment of Silverstein Legal's Legal Impact: Industry Issues, Today & Tomorrow live webinar series.
The adult industry is always under scrutiny, often from multiple angles. It can be overwhelming to even keep up with, much less know what to do. During the Legal Impact: Industry Issues, Today & Tomorrow live webinar events, Silverstein will explore legal issues impacting the industry right now, as well as what's on the horizon. Industry thought-leaders as featured guests will add texture and nuance to these not-to-be-missed events.
Legal Impact live webinar events will be hosted by sociologist, Dr. Chauntelle Tibbals and are produced in conjunction with exclusive media sponsor XBIZ. All live events are free to attend for all members of the adult entertainment community and will be posted subsequently on MyAdultAttorney.com, Adult.Law, and XBIZ.tv.
Silverstein Legal will also be holding a special Legal Impact live broadcast event during XBIZ Miami in May. Details are forthcoming.
Register for Legal Impact's "Section 230: Why aren't we talking about it more?" via EventBrite now!
Silverstein is the managing and founder member of Silverstein Legal. His practice focuses on representing all areas of the adult industry. Silverstein is also the founder of subscription service Adult.Law. Those interested in subscribing to Adult.Law's services can learn more about subscription tiers here.
Join Silverstein on Twitter at @myadultattorney and on Instagram at @coreydsilverstein.
About Silverstein Legal
Founded in 2006 by adult entertainment lawyer Corey D. Silverstein, Silverstein Legal is a boutique law firm that caters to the needs of anyone working in the adult entertainment industry. Silverstein Legal's clients include hosting companies, affiliate programs, content producers, processors, designers, developers, and website operators.
About Adult.Law
Adult.Law is a subscription legal service founded by attorney Corey D. Silverstein. Launched in 2020, Adult.Law aims to make legal counsel accessible to as many members of the adult entertainment community as possible. Adult.Law subscribers receive 24/7 access to legal resources specific to the adult industry and individualized 1-on-1 legal consulting from one of the most experienced legal teams in the space.