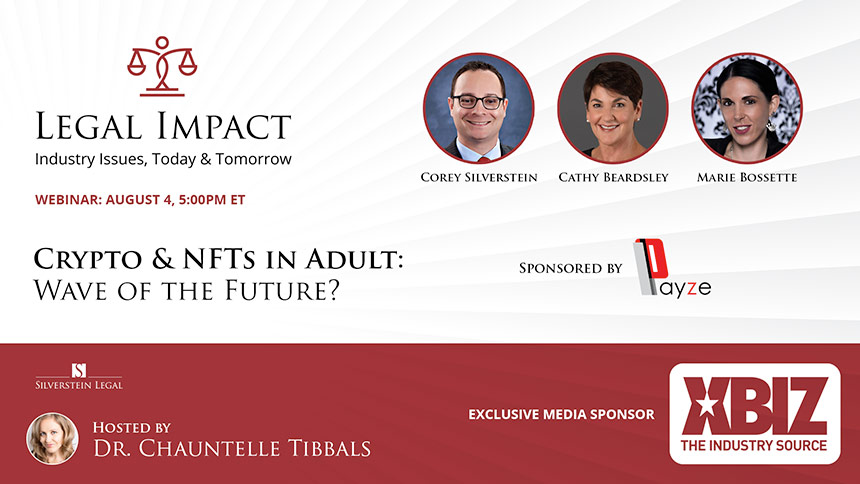 Join attorney Corey D. Silverstein for a pro/con discussion about the current state of crypto and NFTs in the adult space.
Cyberspace (July 29, 2022) – Join adult industry attorney Corey D. Silverstein, the driving force behind MyAdultAttorney.com and Adult.Law, and esteemed guests for the third event in Silverstein Legal's Legal Impact series.
The "Crypto & NFTs in Adult: Wave of the Future?" live streamed event is happening on August 4th at 5 pm ET (2 pm PT) via Zoom. It will feature special guests Marie Bossette (Owner, Marie Bossette Entertainment LLC) and Cathy Beardsley (President and CEO, SegPay). The event is sponsored by Payze and will be hosted by sociologist Dr. Chauntelle Tibbals.
Cryptocurrencies and NFTs have exploded in the adult entertainment industry – however, has their acceptance and growth in the space stalled? Now is the time to have a serious discussion about consumer sentiment, content creators' perspectives, legalities, regulation, and conventional processing. During this special live broadcast event, we will hear pro and con positions from leading players in the space.
Register for free via EventBrite.
"The number one question I am asked by merchants is when we are adding in Crypto," Beardsley shared. "I'm looking forward to sharing how Segpay is approaching the crypto space, our plans for implementation, and all the gotchas we have had to pay attention to along the way!"
"There are many reasons I got into crypto/nft/blockchain – mainly it was to be able to provide more of a one-on-one experience with my fans old and new," Bossette shared. "Another major reason for my involvement is to try and be an example to the upcoming stars and tell them they don't need someone or some company to take a huge percentage of their earnings. We have the power, and it's time to use it!"
"There has always been a tremendous need and desire in our industry for alternatives to customary payment processing. Cryptocurrencies and NFTs are still in their infancy and their uses are really just starting to get tapped into," Silverstein said.
"Nobody knows more about payment processing than Cathy Beardsley, and Marie Bossette has successfully launched her own NFT product and blasted off as one of the top artist/entrepreneurs in our industry," Silverstein continued. "I cannot wait for this special presentation!"
Legal Impact live webinar events will be hosted by sociologist Dr. Chauntelle Tibbals and are produced in conjunction with exclusive media sponsor XBIZ. All live events are free to attend for all members of the adult entertainment community and will be posted subsequently on MyAdultAttorney.com, Adult.Law, and XBIZ.tv.
Register for "Crypto & NFTs in Adult: Wave of the Future?"
Corey D. Silverstein is the managing and founding member of Silverstein Legal. His practice focuses on representing all areas of the adult industry. Silverstein is also the founder of subscription service Adult.Law. Those interested in subscribing to Adult.Law's services can learn more about subscription tiers here.
Join Silverstein on Twitter at @myadultattorney and on Instagram at @coreydsilverstein.
About Silverstein Legal
Founded in 2006 by adult entertainment lawyer Corey D. Silverstein, Silverstein Legal is a boutique law firm that caters to the needs of anyone working in the adult entertainment industry. Silverstein Legal's clients include hosting companies, affiliate programs, content producers, processors, designers, developers, and website operators.
About Adult.Law
Adult.Law is a subscription legal service founded by attorney Corey D. Silverstein. Launched in 2020, Adult.Law aims to make legal counsel accessible to as many members of the adult entertainment community as possible. Adult.Law subscribers receive 24/7 access to legal resources specific to the adult industry and individualized 1-on-1 legal consulting from one of the most experienced legal teams in the space.