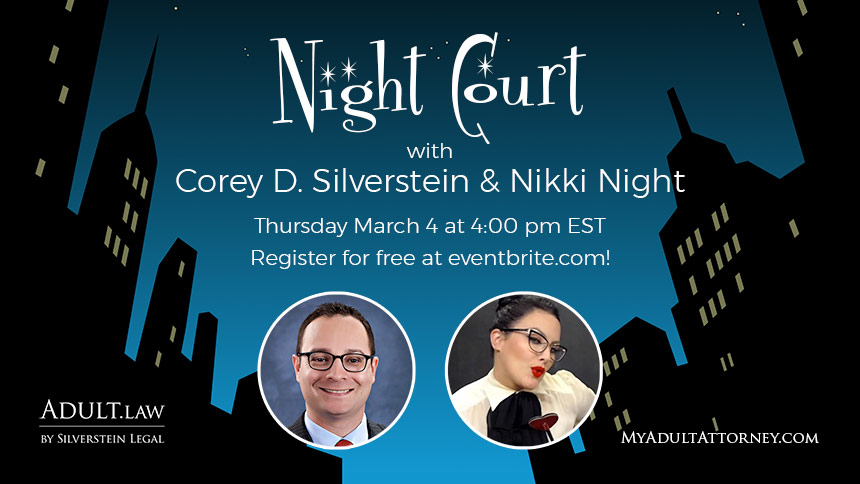 Join an IRL attorney and the world's most important online judge for a spirited, informative discussion tailored to online content creators.
Cyberspace (March 2, 2021) — Corey D. Silverstein, the driving force behind MyAdultAttorney.com and Adult.Law, and premier cam coach Nikki Night are joining forces on Thursday March 4 at 4 pm EST for a unique online event that's not to be missed: "Night Court, with Corey D. Silverstein & Nikki Night."
During the event, Silverstein and Night will discuss topics highly relevant to online content creators navigating today's industry. This will include contracts, content production, legal compliance documents, managing the present strategically, planning wisely for the future, and much more. The spirited conversation will be both accessible and packed with humor. Attendees will be invited to ask questions and engage via chat during the event.
The event is free to attend for models and content creators and promises to be useful for individuals at all stages of their careers. Register for "Night Court, with Corey D. Silverstein & Nikki Night" via Eventbrite.
"Nikki Night is one of the best cam model coaches in the world and has dedicated her career to helping cam models grow personally and professionally," said Silverstein. "I'm really looking forward to this collaboration because I share Nikki's vision regarding the power of coaching and education. I am expecting lots of great legal questions and a packed audience for this can't-miss event."
Night's appreciation for Silverstein is mutual, as is her enthusiasm for the event.
"Corey is the perfect person to get paddled in Night Court!" Night proclaimed. "I jest, but in all seriousness — online content creators need to be aware of the rules, regulations, and laws that shape the way we can do business. Education and coaching are my passion and this event will help on both fronts. Bring the hard stuff bb's because we will have access to some fine legal expertise that everyone can benefit from."
Corey D. Silverstein is the managing and founder member of Silverstein Legal and the founder of subscription service Adult.Law. His practice focuses on representing all areas of the adult industry. Those interested in retaining Adult.Law's services can learn more about subscription tiers here: adult.law/subscriptions/
Join Silverstein Legal on Twitter at @myadultattorney and on Instagram at @coreydsilverstein.
About Silverstein Legal
Founded in 2006 by adult entertainment lawyer Corey D. Silverstein, Silverstein Legal is a boutique law firm that caters to the needs of anyone working in the adult entertainment industry. Silverstein Legal's clients include hosting companies, affiliate programs, content producers, processors, designers, developers, and website operators.
About Adult.Law
Adult.Law is a subscription legal service founded by attorney Corey D. Silverstein. Launched in 2020, Adult.Law aims to make legal counsel accessible to as many members of the adult entertainment community as possible. Adult.Law subscribers receive 24/7 access to legal resources specific to the adult industry and individualized 1-on-1 legal consulting from one of the most experienced legal teams in the space.
About Nikki Night
Nikki Night has been described as the Vince Lombardi of cam. The renowned coach began working online as a full-time model in 2010 and eventually became the in-house coach for a major webcam platform. She was the first person to hold such an occupation in industry history. Night has since worked behind the scenes developing coaching programs, as well live coaching and speaking around the world. To date, she has trained over 8,000 webcam models — and counting!
This article does not constitute legal advice and is provided for your information only and should not be relied upon in lieu of consultation with legal advisors in your own jurisdiction. It may not be current as the laws in this area change frequently. Transmission of the information contained in this article is not intended to create, and the receipt does not constitute, an attorney-client relationship between sender and receiver.