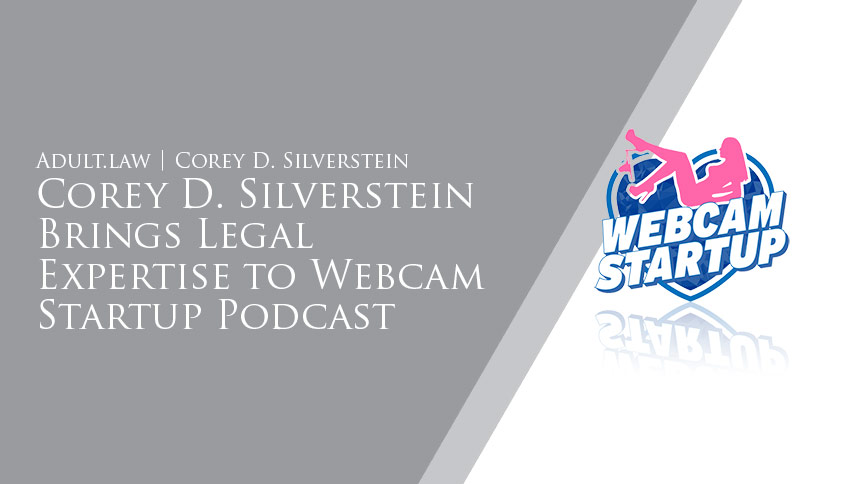 Attorney Corey D. Silverstein recently shared legal expertise and insights as a guest on the Webcam Startup podcast.
Cyberspace (March 30, 2021) — Corey D. Silverstein, the driving force behind MyAdultAttorney.com and Adult.Law, recently sat down with Webcam Startup for a spirited, informative discussion via the platform's podcast interview series.
In the 40-minute episode, Silverstein discusses the importance of hiring a lawyer that is familiar with the adult industry, legal compliance, and more. Silverstein also discusses the inspiration behind Adult.Law, as well as how the platform can help independent performers and creators.
The episode is available now via WebcamStartup.com.
"The opportunity to participate with Webcam Startup as a guest on their podcast was an incredible experience," Silverstein said. "I was thrilled with the opportunity to connect with independent webcam models and content creators via this great interview."
"Legal help is vital, and it's so important for creators to know that it's easily obtained through Adult.Law — and that this assistance is available at an affordable rate," Silverstein added.
Talking with Silverstein was an educational eye-opener for Webcam Startup podcast host Katy Churchill, as well as a "timely reminder that, in an industry constantly under attack from outside forces, legal advice is worth the price."
"The interview is full of useful information for independent performers," Churchill said. "It was very educational for me, too. I learned that some of my own 'best practices' are years out of date from a legal perspective!"
Never "just" an attorney, Silverstein brings human connection and levity to all of his interactions — including this interview!
"Sitting down to talk to Corey was a blast!" Churchill continued. "We bonded over our Canadian backgrounds and even found time to talk about hockey after finishing up the interview."
"Katy is a true asset to the content creator community — and she's almost as funny as I am!" Silverstein quipped.
Enjoy this excellent educational conversation between Silverstein and Webcam Startup!
Silverstein is the managing and founder member of Silverstein Legal (myadultattorney.com) and the founder of subscription service Adult.Law. His practice focuses on representing all areas of the adult industry. Those interested in retaining Adult.Law's services can learn more about subscription tiers here: adult.law/subscriptions/
Join Silverstein on Twitter at @myadultattorney and on Instagram at @coreydsilverstein.
About Silverstein Legal
Founded in 2006 by adult entertainment lawyer Corey D. Silverstein, Silverstein Legal is a boutique law firm that caters to the needs of anyone working in the adult entertainment industry. Silverstein Legal's clients include hosting companies, affiliate programs, content producers, processors, designers, developers, and website operators.
About Adult.Law
Adult.Law is a subscription legal service founded by attorney Corey D. Silverstein. Launched in 2020, Adult.Law aims to make legal counsel accessible to as many members of the adult entertainment community as possible. Adult.Law subscribers receive 24/7 access to legal resources specific to the adult industry and individualized 1-on-1 legal consulting from one of the most experienced legal teams in the space.