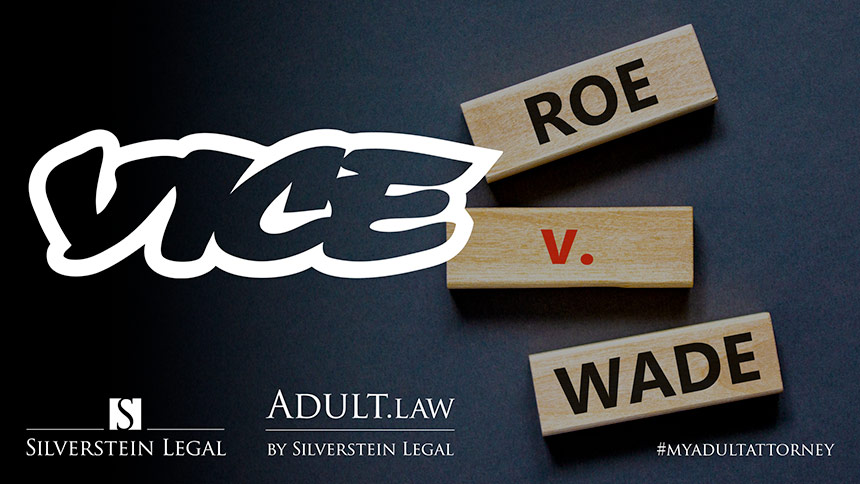 #myadultattorney shared his insights as part of a piece exploring the wider sex work-scape in light of Roe vs. Wade's recent overturn.
Cyberspace (October 24, 2022) – Corey D. Silverstein, the driving force behind MyAdultAttorney.com and Adult.Law, recently spoke to VICE as part of a piece exploring the wider sex work-scape in light of Roe vs. Wade's recent overturn.
Read "'Doubling Our Rates for Creampie Scenes:' Sex Workers on Life After Roe" right here.
VICE authors wrote that, "In the months since the Supreme Court overturned Roe v. Wade and eradicated the national right to abortion, many sex workers are wrestling with the possibility that they may be unable to terminate an unwanted pregnancy."
The authors spoke to sex workers in different areas of the field, including adult performer Siri Dahl. Silverstein then added a legal perspective to the piece.
Though he has "yet to come across one instance in 20 years of a performer actually getting pregnant on set," Silverstein told VICE, "I always recommend performers get health insurance. Always."
Silverstein then pointed out that this is not always realistic, in part because many people simply don't have the consistent income to afford it, addeding credence to VICE's observation that many sex workers live "paycheck-to-paycheck."
"I was thrilled to be part of this article because VICE continues to cover important issues that media outlets too often ignore, as they involve the adult entertainment industry," Silverstein said.
"Dobbs v. Jackson Women's Health Organization overturned 50 years of legal precedent that I've studied as a constitutional attorney," Silverstein explained. "The practical effects of this decision are unfortunately being mischaracterized and understated."
Silverstein has spoken to other mainstream media outlets about this issue. Read, for instance, "The Supreme Court May Have Just Killed Porn's 'Creampie'" in The Daily Beast right here.
Read VICE's article in full here.
Corey D. Silverstein is the managing and founding member of Silverstein Legal. His practice focuses on representing all areas of the adult industry. Silverstein is also the founder of subscription service Adult.Law. Those interested in subscribing to Adult.Law's services can learn more about subscription tiers here.
Join Silverstein on Twitter at @myadultattorney and on Instagram at @coreydsilverstein.
About Silverstein Legal
Founded in 2006 by adult entertainment lawyer Corey D. Silverstein, Silverstein Legal is a boutique law firm that caters to the needs of anyone working in the adult entertainment industry. Silverstein Legal's clients include hosting companies, affiliate programs, content producers, processors, designers, developers, and website operators.
About Adult.Law
Adult.Law is a subscription legal service founded by attorney Corey D. Silverstein. Launched in 2020, Adult.Law aims to make legal counsel accessible to as many members of the adult entertainment community as possible. Adult.Law subscribers receive 24/7 access to legal resources specific to the adult industry and individualized 1-on-1 legal consulting from one of the most experienced legal teams in the space.