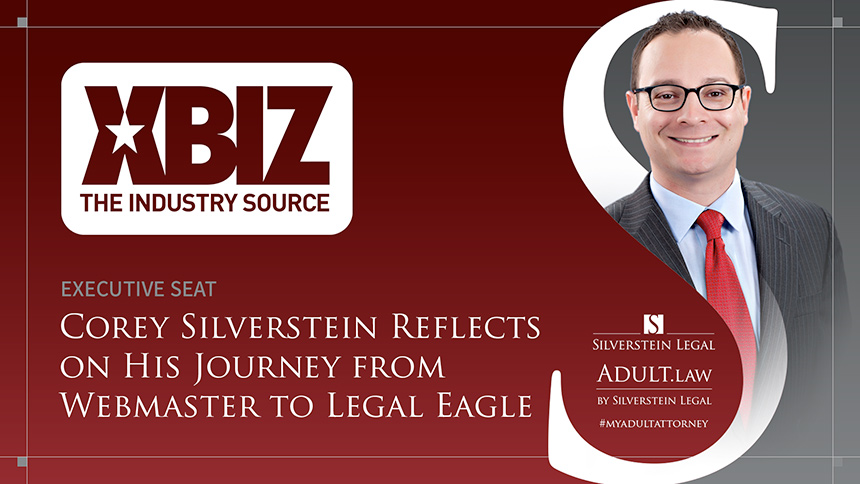 Probe the adult industry's most visible 'seasoned [legal] pro' via this in-depth career exploration!
Cyberspace (September 5, 2022) – Corey D. Silverstein, the driving force behind MyAdultAttorney.com and Adult.Law, was recently profiled in XBIZ World magazine.
The in-depth interview with XBIZ's Gustavo Turner covers Silverstein's history – including his work in the adult entertainment space before he was an attorney – emerging industry trends, and the ways he currently works to educate and give back to the community.
Silverstein also discusses offline facts about his personal life. Some of these facts – like his self-proclaimed "computer dork" status – will come to no surprise to readers, while his sustained penchant for full contact ice hockey might!
"My journey through the adult entertainment industry has been filled with twists and turns and continues to be an amazing adventure where I get to interact and build relationships with some of the most amazing people I've ever met," Silverstein said.
He continued, "For those that didn't know my story, I'm thrilled that XBIZ wanted to share it with its readers and perhaps it gives the industry the opportunity to know me more intimately."
Read "Seasoned Pro: Corey Silverstein Talks Multifaceted Career" in the September 2022 issue of XBIZ World (beginning on page 46) right here.
Corey D. Silverstein is the managing and founder member of Silverstein Legal. His practice focuses on representing all areas of the adult industry. Silverstein is also the founder of subscription service Adult.Law. Those interested in subscribing to Adult.Law's services can learn more about subscription tiers here.
Join Silverstein on Twitter at @myadultattorney and on Instagram at @coreydsilverstein.
About Silverstein Legal
Founded in 2006 by adult entertainment lawyer Corey D. Silverstein, Silverstein Legal is a boutique law firm that caters to the needs of anyone working in the adult entertainment industry. Silverstein Legal's clients include hosting companies, affiliate programs, content producers, processors, designers, developers, and website operators.
About Adult.Law
Adult.Law is a subscription legal service founded by attorney Corey D. Silverstein. Launched in 2020, Adult.Law aims to make legal counsel accessible to as many members of the adult entertainment community as possible. Adult.Law subscribers receive 24/7 access to legal resources specific to the adult industry and individualized 1-on-1 legal consulting from one of the most experienced legal teams in the space.