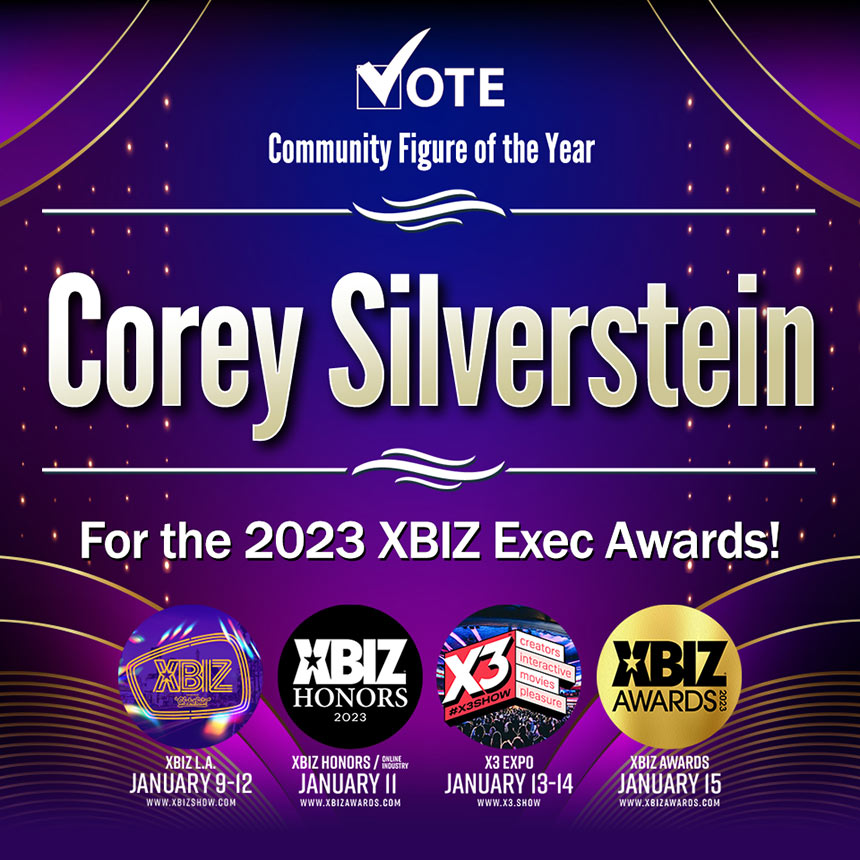 Silverstein Legal is proud to announce that adult industry attorney Corey D. Silverstein has been nominated for the "Community Figure of the Year" award at the 2023 XBIZ Exec Awards.
This is the 5th XBIZ Exec Award nomination for the adult entertainment industry's premiere attorney and an opportunity for a follow-up to his 2019 award win.
"This award is truly special because I was nominated along with some of the biggest and most talented individuals in the industry today," Silverstein said.
"Regardless of whether I win the award or not, this is already a career accomplishment for me," Silverstein continued. "To my knowledge, I'm the only adult industry lawyer to have ever won an XBIZ Exec Award, and I'm grateful for that distinction."
Nominees were selected based on several success factors including leadership, business acumen, community influence, and overall career achievement as submitted by members of the adult industry via XBIZ.net.
Voting for the 2023 XBIZ Exec Awards is now live on XBIZ.net and continues through Tuesday, Nov. 23.
The XBIZ Exec Awards will be presented as part of the annual XBIZ Honors ceremonies, with the online industry edition hosted on January 5, 2023 in conjunction with the XBIZ LA conference and the retail edition on January 11, 2023 during the ANME/XBIZ Show.
About Silverstein Legal
Founded in 2006 by adult entertainment lawyer Corey D. Silverstein, Silverstein Legal is a boutique law firm that caters to the needs of anyone working in the adult entertainment industry. Silverstein Legal's clients include hosting companies, affiliate programs, content producers, processors, designers, developers, and website operators.
About Adult.Law
Adult.Law is a subscription legal service founded by attorney Corey D. Silverstein. Launched in 2020, Adult.Law aims to make legal counsel accessible to as many members of the adult entertainment community as possible. Adult.Law subscribers receive 24/7 access to legal resources specific to the adult industry and individualized 1-on-1 legal consulting from one of the most experienced legal teams in the space.