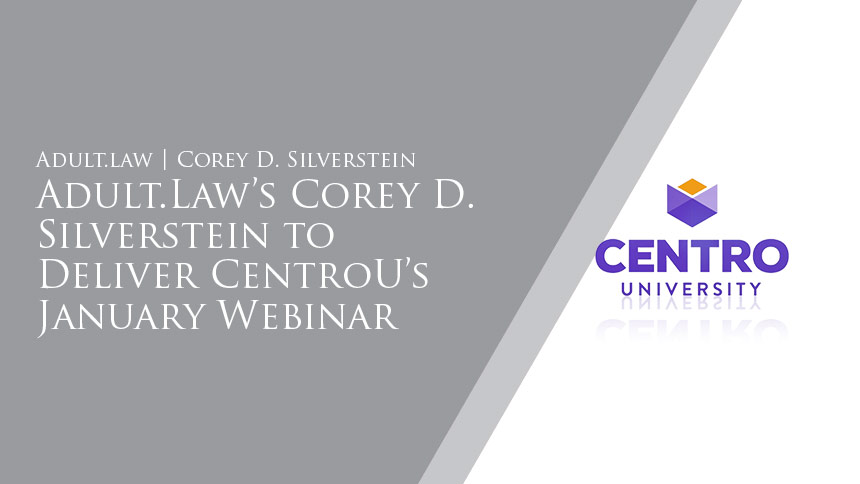 Tune in to "Legal Tips for Becoming a Successful Influencer" this Wednesday at 3 pm EST
Cyberspace (January 18, 2021) — Adult.Law's Corey D. Silverstein will be appearing as the featured guest on CentroU's monthly live webinar later this week.
The event — "Legal Tips for Becoming a Successful Influencer" — is scheduled for Wednesday January 20, 2021 at 3 pm EST and will be hosted by MelRose Michaels. Silverstein will guide participants through battling cyberbullies, the importance of reading contracts, how to create an LLC, social media strategy, navigating copyright infringement, and how to collaborate with other performers.
"It's an honor to have been invited to participate in this CentroU webinar," Silverstein said.
"CentroU continues to be an amazing resource for performers, and it's a privilege to get to connect with the CentroU audience," Silverstein continued. "I'm excited for the chance to help CentroU's members get answers to their legal questions and concerns."
CentroU is a comprehensive educational system that aims to support models working to build successful careers as influencers within FanCentro. The organization prides itself on providing community members with the highest caliber of resources, including Silverstein.
"Corey D. Silverstein brings years of experience as a successful litigator and renowned speaker, as well as award-winning expertise, to CentroU," said FanCentro's VP of Marketing Kat Revenga.
Silverstein's appearance with Centro University compliments Adult.Law's weekly content resource release. In addition to January 13th's "Content Use Limitations," content resources coming soon from Adult.Law include "2021 Legal Horizon" (available January 22), "Choice of Law and Forum Selection Provisions in Contracts" (available January 29), and "Stop Trying to Copy Everyone Else!" (available February 5).
Adult.Law subscribers may access this content, along with extensive existing resources, here. Those interested in retaining Adult.Law's services can learn more about subscription tiers here: adult.law/subscriptions/
Join Silverstein on Twitter at @myadultattorney and on Instagram at @coreydsilverstein.
About Adult.Law
Adult.Law is a subscription legal service founded by attorney Corey D. Silverstein. Launched in 2020, Adult.Law aims to make legal counsel accessible to as many members of the adult entertainment community as possible. Adult.Law subscribers receive 24/7 access to legal resources specific to the adult industry and individualized 1-on-1 legal consulting from one of the most experienced legal teams in the space.
This article does not constitute legal advice and is provided for your information only and should not be relied upon in lieu of consultation with legal advisors in your own jurisdiction. It may not be current as the laws in this area change frequently. Transmission of the information contained in this article is not intended to create, and the receipt does not constitute, an attorney-client relationship between sender and receiver.